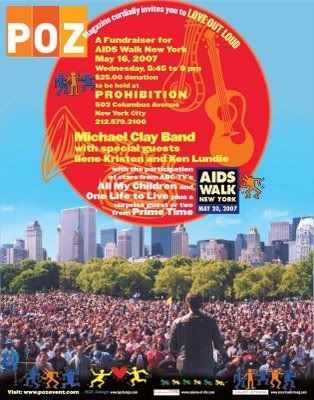 Kimberly and Jason's storyline has inspired a fanbase. Fans have gone beyond just tuning in to watch the show, they've donated money to various AIDS charities and actively participated in events to bring attention to it. This post is to recognize the contributions various groups of the
fanbase have made, and to direct the online community toward where they can continue to lending support to those trying to "fight the monster". If you have a little spare cash and time, please help out the below fundraising efforts

Our friends at POZ magazine are holding a charity benefit at Prohibition in NYC on

May 16th

in NYC from 5:45pm to 9pm. Ticket price is a $25 donation - Thorsten Kaye, Ilene Kristen, and others from ABC will be there. You can find a larger picture of the flyer here

AIDS Walk NYC on

May 20th

: There are couple people/groups walking in this event, you can support Jackie (JacquelynCL) at her AIDS walk webpage and POZ magazine at their AIDS walk webpage
The main Scrubs Message Board will be gathering donations in June for the Elizabeth Glaser Pediatric AIDS Foundation on behalf of Jason Thompson and Kimberly McCullough. Look for details toward the end of the month!
I'm giving a ballpark figure of donations to date, in order to give an idea of how much generosity the Scrubs storyline has inspired...To date, the donation total made to AIDS charities on behalf of Kimberly and Jason (or because of their storyline) is around
$51,765.20
If you'd like to see the breakdown of the total and how many different charity organizations have benefited from Kimberly, Jason and their inspiring storyline, please
Broadway Cares/Equity Against AIDS

Auction item total for Skit and memorabilia necklace $18,000
Around 20 members paid for $250 VIP tickets, of which $100 was tax-deductible


AIDS Walk Los Angeles




2006 Donations to Kimberly and Jason's page $26,570.20
2006 Scrubs fan walkers $520

AIDS Walk New York City

2007 Scrubs fan walker Jackie $825 (so far!)


Elisabeth Glaser Pediatric AIDS Foundation

presented at the Brokerage Event $1,800
presented at the 2006 FCW Scrubs Event $1,800
Beyond Reason has used overages of donations (to cover the cost of running her site), to give to the cause $250

These are only the donations we are aware of, more than likely this is just a slight reflection of how much this storyline has inspired viewers to give back.